लक्ष्य Lakshya song lyrics In Hindi- Hrithik Roshan
लक्ष्य Lakshya Full song Hindi Lyrics [2004] - Shankar Mahadevan Hindi Lyrics
---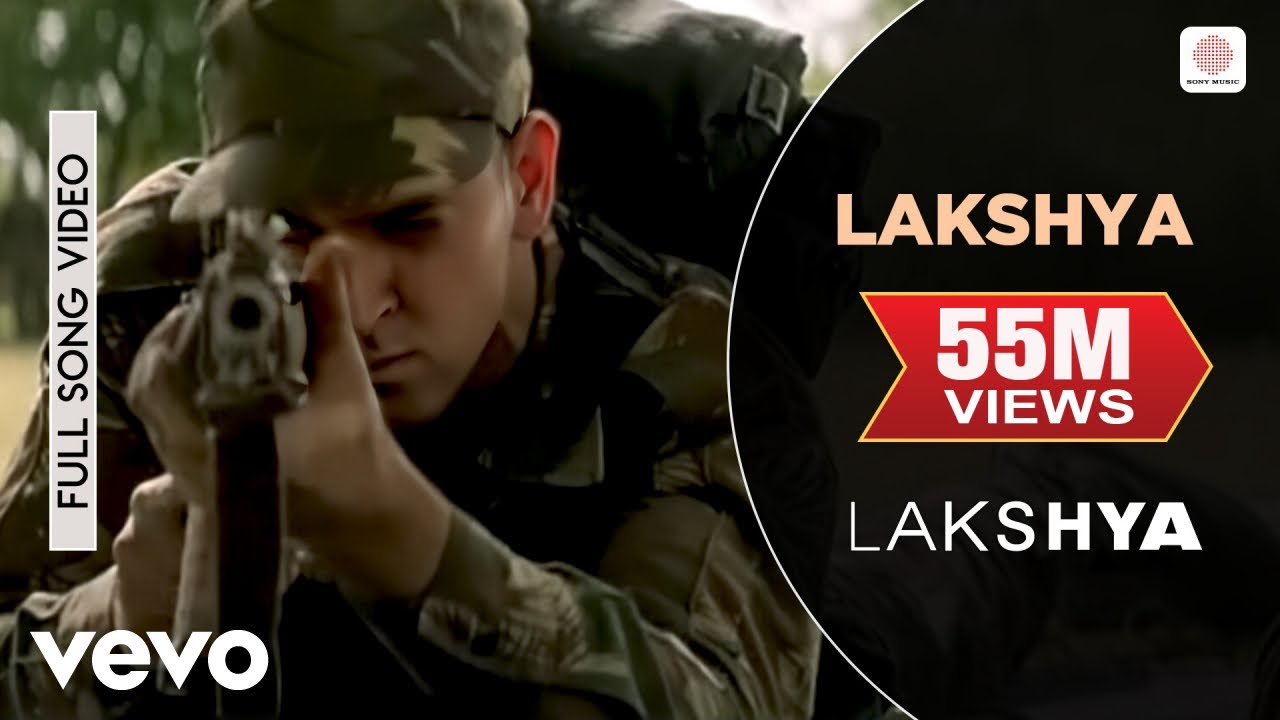 ---
| | |
| --- | --- |
| Singer | Shankar Mahadevan |
| Composer | Shankar Ehsaan Loy |
| Music | Shankar Ehsaan Loy |
| Song Writer | Javed Akhtar |
---
लक्ष्य Lakshya Hindi Lyrics is a very beautiful patriotic song, sung by one of the greatest singer of Bollywod who's name is Shankar Mahadevan. The music producer and composer of लक्ष्य Lakshya song is Shankar Ehsaan Loy. The beautiful lyrics of this song is written by Javed Akhtar.
लक्ष्य Lakshya Hindi Lyrics, is from Lakshya movie [2004].
Lakshya' the title track is a power packed music video featuring Hrithik Roshan who plays the role of Lieutenant Karan Shergill, who leads his team to victory over the Pakistani troops.
This Indian patriotic film star's Hrithik Roshan, Sharad Kapoor, Amitabh Bachchan, Aditya Srivastava, Om Puri and Boman Irani.

लक्ष्य Lakshya Hindi Lyrics, original video song is available on Sony Music India Vevo, Youtube channel.
Lakshya Lyrics In Hindi

हाँ यही रास्ता है तेरा
तूने अब जाना है
हाँ यही सपना है तेरा
तूने पहचाना है
तुझे अब यह दिखाना है

हाँ यही रास्ता है तेरा
तूने अब जाना है
हाँ यही सपना है तेरा
तूने पहचाना है
तुझे अब यह दिखाना है

रोके तुझको आँधियाँ
या ज़मीन और आसमान
पायेगा जो लक्ष्य है तेरा
लक्ष्य तोह…हर हाल में पाना है
लक्ष्य तोह…हर हाल में पाना है
हिम्मत से जो कोई चले
धरती हिले क़दमों तले
क्या दूरियाँ.. क्या फ़ासले
मंज़िल लगे आके गले

हिम्मत से जो कोई चले
धरती हिले क़दमों तले
तू चल यूँ ही अब सुबह-ो-शाम
रुकना झुकना नहीं तेरा काम
तू चल यूँ ही अब सुबह-ो-शाम
रुकना झुकना नहीं तेरा काम
पायेगा जो लक्ष्य है तेरा..

लक्ष्य तोह…हर हाल में पाना है
लक्ष्य तोह…हर हाल में पाना है

लक्ष्य Lakshya Full song Hindi Lyrics [2004] Watch Video