मैं तेरी हो गयी Main Teri Ho Gayi Hindi Lyrics- Sardar Ka Grandson
Main Teri Ho Gayi Song | Sardar Ka Grandson | Arjun Kapoor, Rakul P, John Abraham, Aditi Rao
---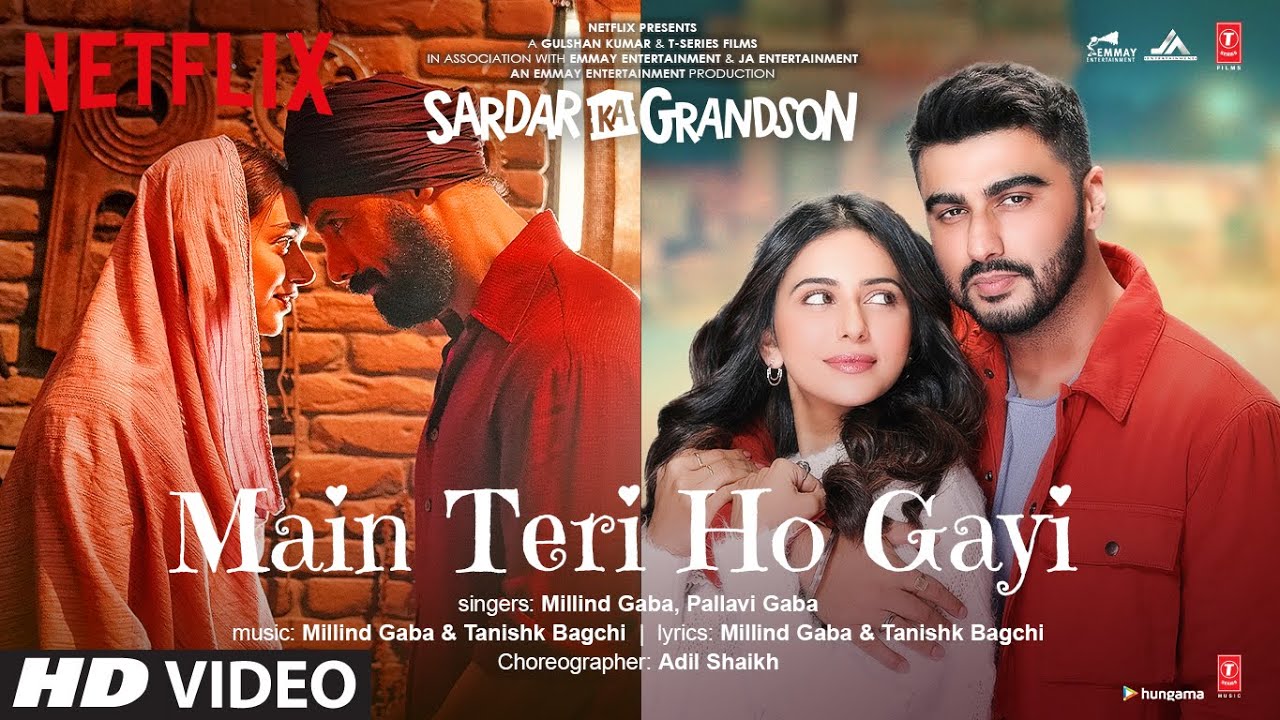 ---
| | |
| --- | --- |
| Singer | Millind Gaba, Pallavi Gaba |
| Composer | Millind Gaba |
| Music | Millind Gaba |
| Song Writer | Tanishk Bagchi, Millind Gaba, Happy Raikoti |
---
मैं तेरी हो गयी Main Teri Ho Gayi Hindi Lyrics is a very special and brand new song from the movie Sardar Ka Grandson. मैं तेरी हो गयी Main Teri Ho Gayi is beautifully sung by a star singer Millind Gaba and Pallavi Gaba, and written by Millind Gaba, Tanishk Bagchi & Happy Raikoti. Millind Gaba provides the music for this amazing and heart touching song. The song is arranged and programmed, and its music is recreated by Tanishk Bagchi.

Millind Gaba has done lots of work on his own for this song and he also composed the song. This song stars Arjun Kapoor and Rakul Preet Singh.

मैं तेरी हो गयी Main Teri Ho Gayi Hindi Lyrics, original video was published on T series official Youtube channel on 4 May 2021.

Sardar Ka Grandson Movie details-

The movie stars Arjun Kapoor, Rakul Preet Singh, Neena Gupta, Soni Razdan, Kumud Mishra, Kanwaljit Singh, John Abraham, Aditi Rao Hydari, and Divya Seth, among others.
The movie is directed by Kaashvie Nair and it will release on Netflix on 18th May 2021.

Lyrics
मैनू तेरी बनके रहना
तेरी हूँ बस यारा
ना चाहूँ चाँद सितारे
माहि सबसे प्यारा
जहाँ कहेगा वहां रह लुंगी

हस हस के सब कुछ सह लुंगी

जहाँ कहेगा वहां रह लुंगी

हस हस के सब कुछ सह लुंगी
माहिया ये वादा कर
वे मैं तेरी हो गयी आं

मुझे दूर ना करीं

वे मैं तेरी हो गयी आं

मुझे दूर ना करीं
ये डोर मोहब्बत की

कमजोर ना करीं
कदमों में दुनिया ये सारी रख दूँ

तेरे आगे जान हर वारि रख दूँ

तेरी मेरी जोड़ी की निशानी रख दूँ

इश्क ये अपनी ज़ुबानी रख दूँ
तेरे कोल कोल आके

अपना तुझे बना के

अब मुझको यारा कोई ना फिकर
माहिया ये वादा कर
वे मैं तेरी हो गया

मुझे दूर ना करीं

वे मैं तेरी हो गया

मुझे दूर ना करीं
ये डोर मोहब्बत की

कमजोर ना करीं
वे मैं तेरी हो गयी आं

मुझे दूर ना करीं

वे मैं तेरी हो गयी आ

मुझे दूर ना करीं
ये डोर मोहब्बत की

कमजोर ना करीं
मैं तेरी हो गया

मुझे दूर ना करीं

मैं तेरी हो गया

मुझे दूर ना करीं
Main Teri Ho Gayi Song | Sardar Ka Grandson | Arjun Kapoor Watch Video